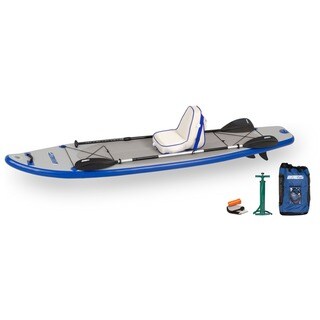 The Sea Eagle SUP Inflatable Paddle Board LongBoard 11ft Start Up Package is a heavy duty, all purpose inflatable SUP longboard that exceeds expectations.  The key advantage to the Sea Eagle SUP is the the ultra strong, industrial strength drop stitching.
Unlike many inflatable stand up paddle boards on the market, this one has the durability to take on a whitewater run or heavy ocean surf.
Sea Eagle SUP inflatable boards are designed to take an actual hammer blow and remain unscathed.  This resistance to tears is from its proprietary internal and external design.  The Sea Eagle SUP Inflatable Paddle Board can hold 12 pounds of air pressure, more than twice that of its competitors, adding to its rigidity and improving performance. Read more...